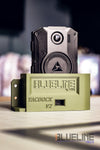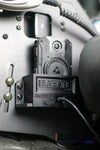 Easy Charging:
Simply plug in your power cord (not included) to the built in USB-C Adapter in the front.
Insert your BWC into the TacDock
Enjoy easy charging while out on patrol, always having a full battery whenever you need it!
mounting options:
Vertical or Horizontal Bolted Mounting
3M double sided adhesive
Mobile Video Uploads
You can continue to utilize AXON VIEW XL to upload your videos if you are doing so already. Mounting the TacDock V2 in your patrol vehicle and connecting it to your laptop makes it easy to quickly dock your body worn camera and utilize the AXON View XL program to watch videos while out on patrol, or get your videos uploaded fast while also charging your BWC. No more fussing or searching for your USB cord.
Do I need anything else to go with the TacDock V2?

All you need is a USB-C cord which likely came with your Body Worn Camera or you are using one already. If you would like an extra, or a longer 6 foot one, check under the accessory tab above to purchase one from us.
Can I just use the provided 3M tape to mount and not the screws?

You can. Utilizing just the two squares of provided 3M tape: space the squares out towards the outer left and right side and make sure to push down when mounting. We suggest utilizing the screws at all times when possible, however the 3M tape is strong enough to hold the TacDock on a flat surface. If mounting on the side of the center console, we highly suggest utilizing the self tapping screws supplied by us.
I can upload my BWC videos from inside my patrol vehicle?!

Yup! Familiarize your self with the Axon View XL software on your laptop. You can download it from Axon or Evidence.com to begin using. We are not affiliated with Axon or Axon View XL. We simply utilize the software ourselves and know a lot of police officers do the same for convenience and ease. Simple use the software in standalone mode and plug the docking station into your laptop. Dock your BWC and you're all set.
Do you offer a bulk discount for agencies or units?

Yes, we offer different tiers of discounts based on the amount of TacDock's purchased. See the contact us button on the bottom of this page and shoot us a message with your specifics and we will get back to you with a quote.
government agencies / bulk orders
If you are a government agency, unit, or other looking to make a bulk purchase, please contact us for bulk pricing.